ECO PER®formance
Non-Slip Fabric/Matting Bulk Rolls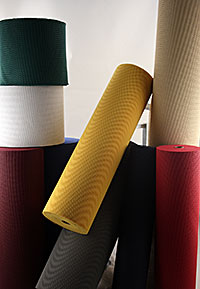 StayPut ECO PER®formance (Polymer Environmental Resin) is a supreme pressure sensitive, environmentally friendly, versatile patented material which offers a flexible range of fabrics and matting that are ideal for domestic and commercial use.
The Bulk Rolls are ideally suited to manufacturers who require larger width or length rolls. They are available in a wide range of colours and various profiles for different applications. The materials can be incorporated with another material or application as they are easily cut, sewn or heat/sonic welded,
The StayPut ECO PER®formance fabric is made from a unique non toxic resin which is free of rubber and latex, odour free and does not emit any toxic chemicals or gases, the polymer environmental resin is melded onto a mesh, supported by polyester fibres resulting in an open weave construction. The mat has been successfully tested against harmful substances; Oeko-Tex Standard 100- Product Class 1(for baby articles).
A versatile anti slip fabric, the 2.4mm depth PER®formance grip fabric, provides a durable, strong anti slip fabric with great cushioning and open mesh structure giving breathability and reducing moisture build up.
2.4mm depth
Toxin free and non allergenic
Fire Retardant and UV stable
Biodegradable
Odourless
Secure, non adhesive non slip
Safe on all surfaces, including Polyurethane paint or varnish
Hygienic and easy to clean. Machine Washable 40°.
Easy to Cut & Sew
FEATURES
So why use StayPut ECO PER®formance Non-Slip Fabric?
Non-Slip - Simply, it helps prevent items from moving or sliding. The open weave structure is also free draining, making the fabric an effective non-slip surface even when wet.

Non-Stick - Grips without sticking, both the top and bottom surface.

Cushioned and soft - Nice to handle as well as protecting surfaces and items from chipping and scratching
Machine Washable - Can be kept clean, fresh and stain free
Easily Cut, and available in different widths - Can be cut to fit any shape and size, from a cutlery tray insert to a full table
Can be sewn – Ideal for applications where the fabric is to be integrated with other materials, i.e. outdoor seat cushions, industrial clothing etc.
Open weave structure - Allows for air circulation and free draining
Mould and mildew resistant - Hardwearing and long lasting
Range of attractive colours - Can be co-ordinated with colour schemes
Adaptable - Without a doubt, the most versatile fabric you will ever come across, it can be used virtually anywhere - food safe - non toxic - Latex and Rubber free - Fire Resistant - UV Stable, - Safe for all surfaces, - Biodegradable, - Environmentally Friendly.
The only limitation is your imagination, see the 'ideas for use' page as your starting point, and please feel free to email us with your own suggestions.
SPECIFICATION
Oeko-Tex Standard -100 Product Class 1 (for baby articles) – TPVO 043943
FDA Certified United States FDA Testing Standards SGS CY-2007 – 10529B. Food Grade.
Phthalate Free – Does not contain PVC or Toxic Metal. SGS UG-2008-20035
RoHS Standards – SGS - CE-2009 – C8168
European Commission (EC) – REACH
Biodegradable - PIDC Test 2009-11-03
Toxic Heavy Metal Free – SGS UG-2008 – 20035A -03
European Union PAHS Subject Content Standards. TUV 113073454
Japan ST Toy Safety Testing Standards – 070202052-4
Please click here for PER®formance Materials Technical Specification for Certification and Accreditation
Please click here for PER®formance Materials Technical Data Sheet
COLOURS